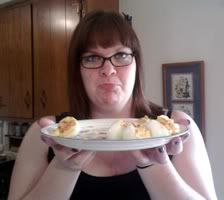 Kimmy mourns the loss of her TARDIS.
Growing up, if decorated Easter eggs weren't outright eaten, they usually ended up in egg salad, but occasionally as deviled eggs, as they did this year. It was a sad moment arriving home after an Easter Egg Hunt in the park to find our beautiful eggs sliced open and stuffed on the dining room table. But I am glad it happened while we were away. Poor TARDIS egg! It was so pretty.
According to the Food Network show "The Secret Life Of..." the dish deviled eggs dates back to the ancient Romans, and the term "deviled" refers to the use of spices in the yolk mixture. Other names for deviled eggs are "salad eggs" and "dressed eggs" presumably to avoid the scandalous traditional name (like how Better Than Sex Cake is often changed to Better Than Anything But Sex Cake to avoid corrupting children's fragile minds).
Wikipedia also says that deviled eggs are sometimes called eggs mimosa, but when I Googled "eggs mimosa," I came up with both traditional deviled eggs and something similar to deviled eggs, but decidedly different. Since this recipe comes from the Telegraph, I wonder if eggs mimosa of this latter sort isn't a British thing. It looks delicious and I'd love to try it sometime! Preferably before next Easter, but it would certainly be something fun and new for a holiday that has become somewhat fixed and routine.
I had deviled eggs at two events this year: the Easter Eggs Hunt in the park, and then with Easter dinner at my mother's house. The basic ingredients for both were mayonnaise and usually mustard, but my mother confessed that she forgot the mustard in hers. Both also had paprika sprinkled on top. My mother added pickle relish (a common variation) to hers, but it was sweet, so I didn't like it that much. I've never added relish to my deviled eggs, but I think dill relish might be pretty tasty.
Another interesting variant that I came across online was, instead of paprika for garnish, little bits of chopped green onion. Apparently, the French version sometimes includes parsley, which I will definitely have to try. I love parsley and keep including it in almost every vegetable dish I've made over the past month. Also according to Wikipedia, "[i]

n the

Hungarian cuisine

the yolks are mashed and mixed with white bread soaked in milk, mustard and parsley, often served as an appetizer in mayonnaise or as a main course baked in the oven with

Hungarian sour cream

topping and served with French fries." That sounds worth trying. I love fries!
It has been suggested by my friend John that I look into French Canadian cooking next. I make no promises yet, so you'll just have to stay tuned!